Client Seminars
The Business Accelerator Seminar
July 17, 2013
The last few years have been tough for many business owners with the Global Financial Crisis (GFC) and associated credit crunch, the high Australian dollar and the explosion of internet shopping. At the same time the technology revolution has seen Google emerge as a dominant force and websites have become the modern version of the business card. Finally, the explosion of social media has changed the marketing landscape forever.
To help you adapt to all these changes we have teamed with Australia's next generation business strategist, Dale Beaumont to bring you The Business Accelerator Seminar. Together we will introduce you to some breakthrough marketing strategies and new business automation tools that will help you transform your business into a smarter, faster and more streamlined operation so you can make more money with less time and effort.
Here at ProActive Accountants & Business Advisors
Grow Your Business, Grow Your Wealth we pride ourselves on our pro-active approach and believe we have a responsibility to help our clients build a more efficient, profitable and valuable business. These amazing business tools and marketing strategies apply to all types of businesses including retail, manufacturing, the building trades and professional services.
We know the content of this seminar could give you a serious competitive edge in your industry and if you're spending too much time DOING the work rather than focusing on MANAGING and GROWING your business then you simply can't afford to miss this seminar. In fact, if you only do one thing this year to improve your business make sure you spend 4 hours working ON your business at The Business Accelerator Seminar. We GUARANTEE this seminar is totally different to any other seminar you've ever attended and you'll discover the marketing secrets of the fastest growing businesses in this country. You'll learn about the 'the new rules of business' and the smart tools, software programs, systems and processes they are using to drive phenomenal growth.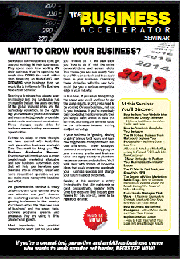 Most importantly, this PRACTICAL presentation won't just tell you what you "should do" it will also show you "how to do it" with live online demonstrations, screen shots and working examples. This means you can see exactly "how to use" these new tools and then apply them in your business. This seminar is valued at $595 but is available FREE to our clients.
In business, if you keep doing things the same way you'll continue to get the same results. In 2014 you need to be working ON your business, not just IN your business. If you're chronically busy producing mediocre results then register immediately because the information in this seminar could mean the difference between your business thriving and just surviving. The content is not only educational, it is inspirational and a real 'game changer' for committed, pro-active and ambitious business owners.
7 REASONS WHY YOU SHOULD ATTEND
You'll learn how to grow your business using cutting edge technology, tools and marketing strategies. You'll walk away with dozens of innovative ideas that could massively accelerate your business success and change your future financial outcomes
You'll discover How to Turn Your Website into a Marketing Magnet that Guarantees More Traffic and Sales
The 10 Hottest Business Tools that could Explode Your Productivity - Get More Done in Less Time
7 New Strategies to Position Your Business as the Industry Leader
How to Dominate Google in Your Industry
The #1 Way to Fast Track your Growth in 2013 and Beyond
The Secrets of Video Marketing Made Easy – How to Generate Hundreds of Website Visitors Per Month through the Power of Video Marketing
Work Smarter NOT Harder ...
If you want to build a more financially rewarding business and better lifestyle REGISTER NOW. If your website is under performing or you're looking to build an online shopfront that resonates with your target market REGISTER NOW. If you're a committed, pro-active and ambitious business owner who wants to work smarter not harder, REGISTER NOW.
This is a one-off, never to be repeated seminar and seating is strictly limited to the first 150 registrants. Don't procrastinate, register NOW because once the seats are filled they are gone forever. You can read more about the seminar and the presenter by downloading the attached brochure and we really hope you can join us for what promises to be an extraordinary event.
MORE REASONS TO REGISTER NOW
• You'll get loads of proven strategies to help drive more visitors to your website
• You'll learn how to improve the visibility of your business on Google
• We will remove any fears you have about the internet and e-commerce
• You'll learn about mobile technology and social media
• You'll see how to engage and convert your customers with email and SMS
• You'll see why YouTube is gathering massive momentum as a way to engage with customers and you'll learn how to harness the power of video to promote your business
• You'll see direct response marketing automation and productivity tools in action that could unlock the referral floodgates in your business
Most importantly, you'll leave this seminar excited at the marketing possibilities in your business and things you might have considered 'too hard' like social media, website design and mobile technology will be simplified and become accessible. Clearly the potential rewards are massive and if you only do one thing this year to improve your business make sure you invest 4 hours of your time to attend The Business Accelerator Seminar on July 17 … we GUARANTEE you'll be glad you did!
on (03) 9761 0035.